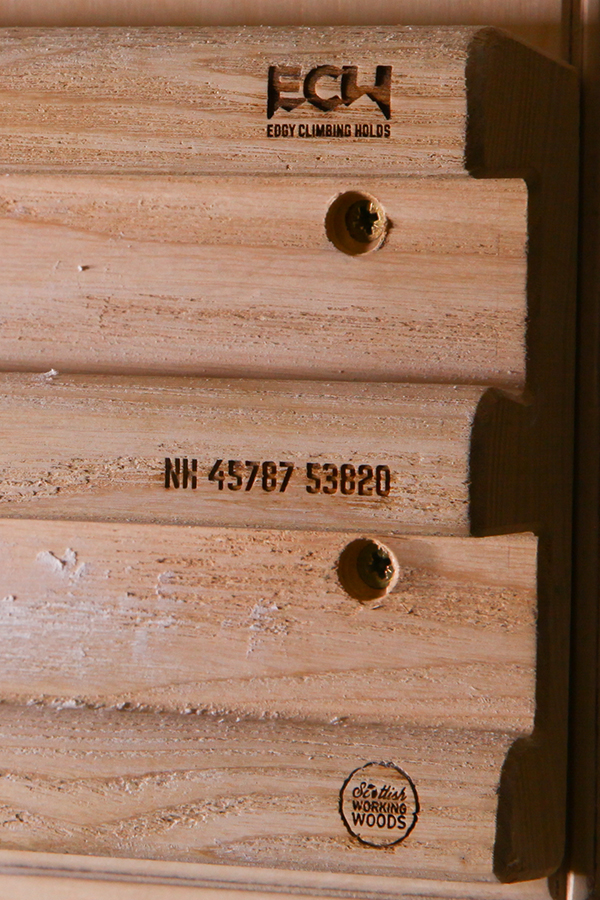 Edge Hangboard
The Edge is featured in the video below mounted on a Power Station and Fuse Board mounting (not included). The Edge comes supplied with screws for mounting in your chosen location.
I have written about the Edge in more detail on my blog here.
Wood hangboards have rightly become the core piece of training equipment every climber should have and use. Edgy Climbing Holds and myself collaborated to create the hangboard we always wanted.
The central feature of the Edge is simplicity. Hangboarding is a simple exercise and we think hangboards should reflect this. We didn't want to use plunged pockets which allow and tempt you to 'nestle' your fingers against the sides of the pocket for extra advantage. We felt that an open rung would remove the temptation for climbers to use poor form and hold the fingers in a twisted position against pocket sides.
The greatest barrier to climbers using hangboards remains easy access to them. In countless coaching sessions, we heard from climbers who said the non-climbers they share a house with were not so keen on an intrusive lump of training equipment fixed to a living room door frame! We felt that creating a simpler, less intrusive design would help here. We also wanted to create a hangboard that was sustainably sourced from local trees. We use Scottish Ash and every Edge board displays the grid reference of the source tree.
Most importantly, we wanted to perfect the rung design. To get really strong fingers, you need to hang on these rungs a lot. So it is critical that they are as comfortable as possible and we put a lot of work into getting the three rung sizes just right. We certainly love using it and feel the rung sizes and shapes hit the right balance of positivity, roundedness, depth and finish. Ideally, you won't notice the effort that went into getting these things right at all. Instead of thinking about sore fingers, you'll be too busy pulling your hardest and getting strong.
Dimensions - 58cm width, 13cm height. Rung depths - 45mm, 21mm, 15mm